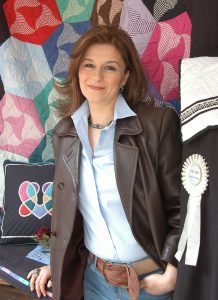 About Gunsu Gungor (Günsu Güngör)
GC Patchwork Studio was formed in 1995 by Gunsu Gungor (Günsu Güngör). She was born in 1959 and is a graduate of Bosphorus University, Istanbul Department of Management. She is married, and has two sons. She worked as a patchwork instructor in Turkish American Association for five years.
About GC Patchwork Studio
The hobby she started years ago made her the owner and instructor of the only patchwork studio in Ankara. The programme formed after hard work of many years gives her students a confident technical foundation plus an easy escape from stress of daily life.
At the end of each year they exhibit their quilts which is visited by various press, TV stations and interested people. They feel very glad to motivate people and add new faces to patchwork world every passing year. Nowadays it is a great pleasure to see the quilts of their group gain international recognition and awards.